#35 Little hands, so soft  #36 Little feet, so determined  #37 Early morning light reflected in her eyes  #38 Soft baby, bathed   
#39 Deep heavy breathing as he sleeps, finally he rests    #40  His hands so strong, protection, provision  #41 The midnight hour, so still, so silent  #42 Pink sky, a rose colored dusk
#43 A quiet drive home, feel the moment  #44 Child humming a song, worship  #45 Bathed children resting deeply after a long productive day  #46 Peaceful quiet atmosphere to come home to
 
"...suffering nourishes grace, and pain and joy are arteries of the same heart - and mourning and dancing are but movements in His unfinished symphony of beauty."
Ann Voskamp, One Thousand Gifts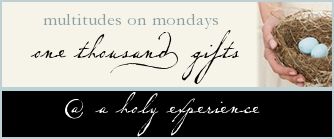 I focus on God's goodness, power, love, grace and mercy........all so undeserved.  I am a better child to Him, wife to my Man of God, Mama to my babies, because of this discipline.
 Oh, how I want to know Him more.............
Do you know Him?
Loving and Living Life............ Amanda